Let us pamper your pets in the comfort of your own home whenever you -
Get away for the weekend
Take a holiday
Travel for business
Need a dog walking service

Click map to see if
we service your area.
Pet sitting and dog walking
A dog boarding & cattery alternative
Lonely Pets Club offers a professional, multi award winning, highly personalised pet sitting and dog walking service. Servicing Melbourne, Perth and Sydney, we are Australia's premier and most experienced pet sitting company and take great pride in setting the bench mark for other pet sitting businesses by offering the highest quality care available for your pets. >
We visit your home to care for your pets in the comfort of their own environment. We believe that pets are much happier left in their own home than boarded elsewhere such as in a dog boarding kennel or cattery.
We also offer a regular dog walking service for owners too busy to walk their own dog. Our dog walking service provides individual attention - we only walk one member's dogs at a time.
We care for all types of pets including cats, dogs, rabbits, birds, fish, guinea pigs, rats & mice, poultry and reptiles. We will also water your plants (when allowed by water restrictions), collect your mail and security check your house.
Lonely Pets Club Reviews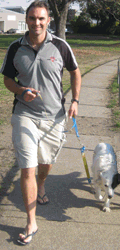 We provide Australia's most trusted and experienced pet sitting and dog walking service. Our club is made up of over 11,370 pet owners and 19,100 pets. We have made over 340,500 visits worth of pet caring experience and fully understand that many pet owners would prefer not to use a dog boarding kennel or a cattery. Click here to read about the Lonely Pets Club difference. Click here to read about the Lonely Pets Club difference.
Lonely Pets Club are recommended by many vets and other industry professionals.
Following your detailed instructions, we care for your pets as if they were our own. We understand that cuddling and talking to your pets is just as important as feeding, watering and (for dogs) walking them.
Our pet care solution gives you the freedom and confidence to leave your home whenever you want, knowing your pets are being cared for by experienced, professional animal lovers, with back up carers available in case your carer becomes ill.
To make a booking, call us on 1300 CUDDLE or just complete an on-line booking enquiry form. Please note that no booking is confirmed until you have received a Booking Confirmation email.